On April 22nd and 23rd, we attended a growing OSS event called FOSS North in Gothenburg – Sweden. According to foss-north.se, "FOSS-North is a free / open source conference covering both software and hardware from the technical perspective. Hosted in Gothenburg between Copenhagen, Oslo and Stockholm with an international airport, we provide a meeting place for the Nordic foss communities and will bring together great speakers with a great audience." and that alone sounds like a lot of fun for us nerds! 😉
The event was held in the Chalmers University of Technology in Gothenburg. Two of the auditoriums were dedicated to FOSS-North, alongside the main corridor where the sponsors and others had their stands, and where the catering was held during the event so that everyone would gather there during the breaks between the talks. We, as the silver sponsor of the event, naturally had our stand packed with demo devices, bringing a lot of attention to Jolla and Sailfish OS.
FOSS-North hosted a bevy of different speeches during the 2-day period with 25 speakers, 2 of them from Jolla! We held our speech about the history of Jolla and the Sailfish community, continued by a piece of our roadmap for Sailfish X, Sailfish 3, and what is planned for the future. We ended the talk by a rather long Q&A from the audience. You can watch the whole talk below, and also access our slides that we used during the talk here.
On top of that, as we always have done, we seized the opportunity to meet with our community from Sweden and Denmark during and after FOSS-North. We gathered in a bar, had some great food, Swedish candies and drinks, with great company. We had generic discussions about Jolla and Sailfish OS, alongside initial plans for having recurring meetups in Gothenburg and the possibility of Jolla attending Opensourcedays in Denmark during October 2018.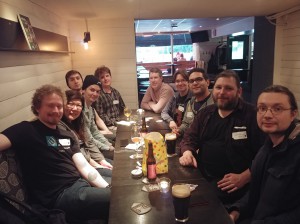 In the end we would like to thank the organisers of FOSS-North for an amazing event and also thank our dear community in Northern Europe for being there and supporting us!

Cheers,
James