Greetings from Tampere! It's summer in Finland (we had a total of 3 warm days so far), and the Jolla Sailors are hard at work bringing you the best software and hardware experience on the upcoming Jolla Tablet. In the meantime, we thought it might be interesting to take a closer look at you, our dear readers, many of whom are our tablet contributors!
We sent out the "Jolla Tablet User Experience Questionnaire" in January 2015, and received 4728 responses, which makes up 65% of our Jolla Tablet Indiegogo backers from the first phase. Most of the answers are from Europe, although we also have some from Americas, Asia, as well as Australia!
Who are our Jolla Tablet contributors?
First, some general demographics. The vast majority of the respondents are male, with about 3/4 falling between the 26-49 age groups. Do these come as a surprise to you? 🙂

What are you using?
We're happy to see that close to half (49%) of the answers indicate that you are a Jolla smartphone owner. We're equally excited that there will be many of you experiencing a Sailfish OS device for the first time, with the Jolla Tablet!
For those who already own a tablet (67%), almost 2/3 (65%) are running Android. A sample of the tablet models is illustrated below.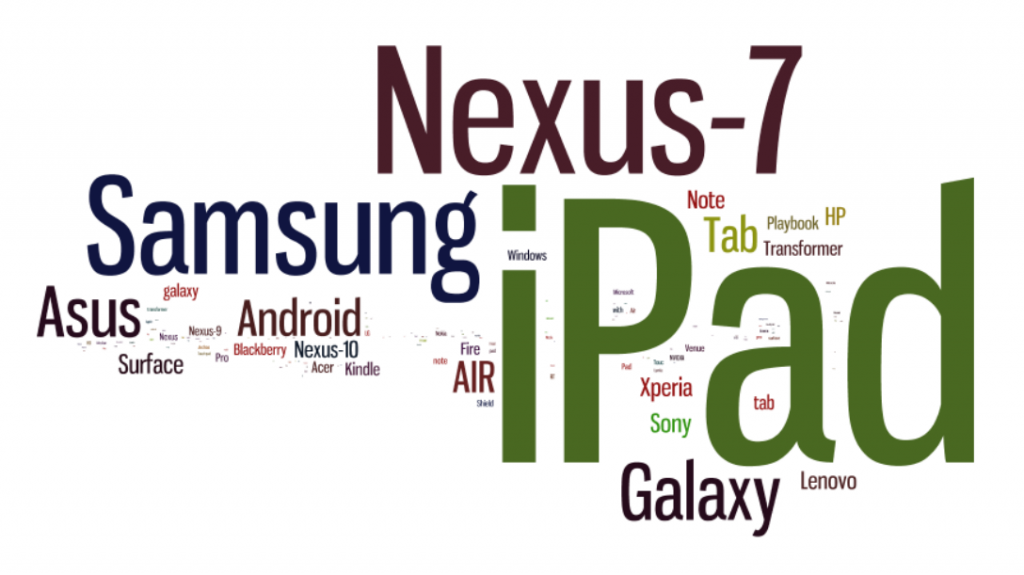 In terms of the languages on devices, English is most widely used, followed by German. Personally I thought the number for Finnish will be higher, as 23% of the respondents were from Finland compared to 16% from Germany. Do many Finns use their phones and tablets in English or even Swedish?
By the way, we just completed the translation round for 15 languages, covering majority of your needs!
Why did you contribute?
The motivation behind the "Why" of things is always interesting and important. For this question of "why did you choose to back the Jolla tablet?", where users can select two responses each, we learnt the following: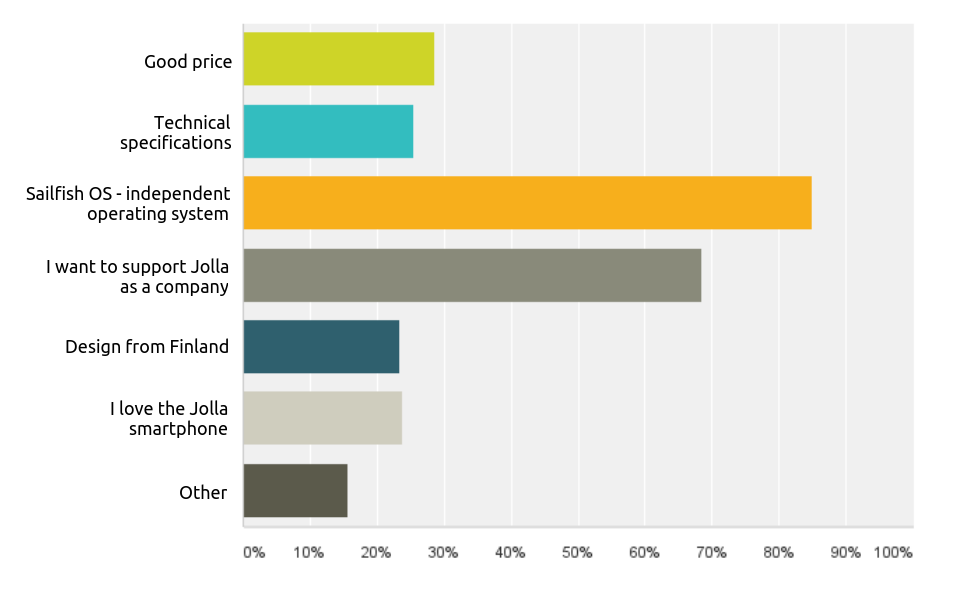 To see Sailfish OS and Jolla (the company) as some of the main reasons for your support is really encouraging to us. Thank you!
Some of the other reasons specified include support for open-source, Linux-based, privacy and security.
Apps and accessories
In order to focus our development efforts to better serve you, we asked about the top tablet applications and accessories you are interested in.
The top 5 applications mentioned are: Browser (100%), Facebook (100%), Skype (90%), Twitter (81%), and Email (72%).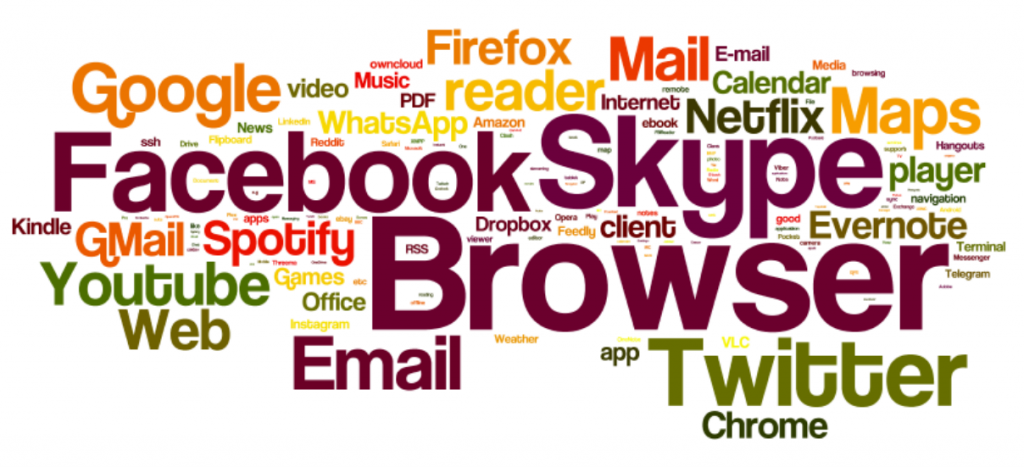 This information has helped us immensely in getting to know how you will be using your device, so we can prepare for it adequately (codecs, formats, plus app availability etc.). We are working on ensuring that the top apps perform well, however as we collected over 15k apps from the survey responses, we will prioritise the most popular apps for your enjoyment.
On the accessories front, the top 5 desirables are: Cases, Stylus, Screen protector, Stand, and Keyboard.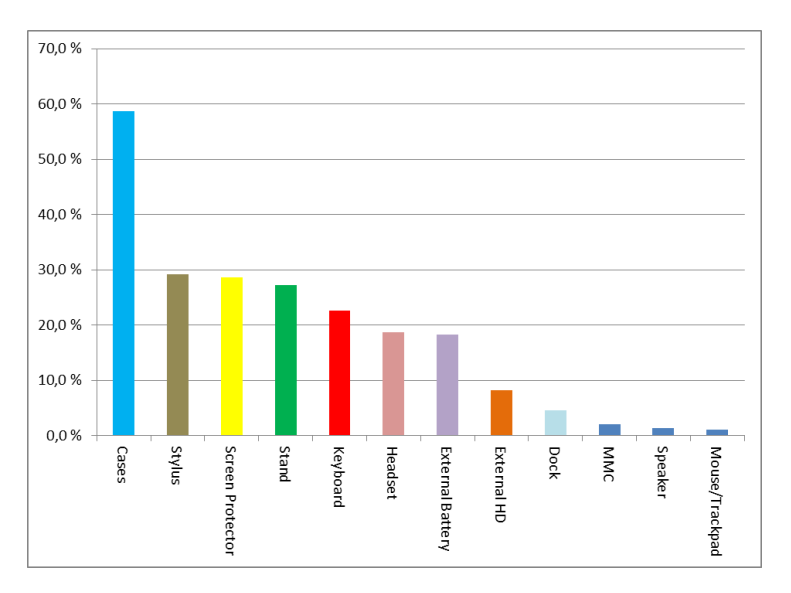 With the success of the TOHKBD project, I was expecting more demand for keyboards, but perhaps tablet usage differs quite a bit from phones. Well, this is why we conduct the survey to hear what you have to say!
We were on target with anticipating your needs for a tablet case, as we offered the LastuCase in the first phase of the Indiegogo campaign and the mapbagrag® case in the second. If you missed out on the LastuCase for Jolla Tablet (which doubles as a stand), you can still pre-order it here.
Concluding comments
On behalf of Jolla, I thank you all for your contributions, as well as taking the time to reply to our questionnaire. What do you think of these findings? Are they as you expected? Let us know in the comments! To wrap up, here are some highlights from the open feedback we received in the survey:
"Thanks for creating a mobile environment where the user is in charge. I very much appreciate your open approach and your attitude as a company, especially to be the creating and producing arm of a community."
"Please keep on going with your commitment to security, freedom and privacy. You are doing a great job! I love the handling of my Jolla Phone and i am looking forward to see Sailfish OS on a tablet."