Ten years back from today, our super excited founding crew including myself (Sami Pienimäki), Marc Dillon, Stefano Mosconi, Jussi Hurmola, and Antti Saarnio, took the founding papers of Jolla Ltd to the Finnish Patent and Registration Office, and the story of Jolla started officially. Soon after this, many individuals from the former MeeGo team joined the Jolla company to give birth to Sailfish OS.
I say 'officially' for Jolla, since as most of you know, the story had already begun years before this in the vibrant and enthusiastic MeeGo team at Nokia, and the passionate community around it. Back in 2010, Nokia was on full speed to make MeeGo its primary smartphone operating system, but after a change in strategy, MeeGo was discontinued in February 2011.
The 10 years of Jolla has been a spectacular ride with loads of significant milestones, unforgettable moments, ups and downs. Already from the beginning it was clearly a 'David vs. Goliath' type of story, which was very accurately pictured by the graphical designer of Helsingin Sanomat, the main daily newspaper in Finland:
The origins of the company, the heritage from Nokia, the infamous burning platform memo, and the excitement of the team, were only a few reasons why the beginning of the company was BIG news worldwide. Jolla was on the cover of the New York Times, and Forbes, Financial Times, TechCrunch and several others started to follow our journey very closely. During the ten years, the media worldwide has written over 10,000 articles about our amazing and adventurous project.
From an outsider's perspective it might seem that Jolla has made huge changes and turns in its strategy along the ten years. Looking from inside, this is far from the truth. Jolla's eye has always been on the ball, in building and offering a true alternative open mobile operating system for the world. – one with fundamentally different values to the mainstream advertising or closed proprietary assets of Android and iOS.   The tactics, target groups etc. have changed and developed along the years, but the vision has always remained the same and clear: Jolla is to offer a Freedom of Choice with open approach.
The Next Chapter
Looking at the Jolla story on a timeline (below), you can clearly see the company's development and focus areas from the early MeeGo times and original Sailfish OS release in 2012, until the recent Sailfish 4, and new business line thinking.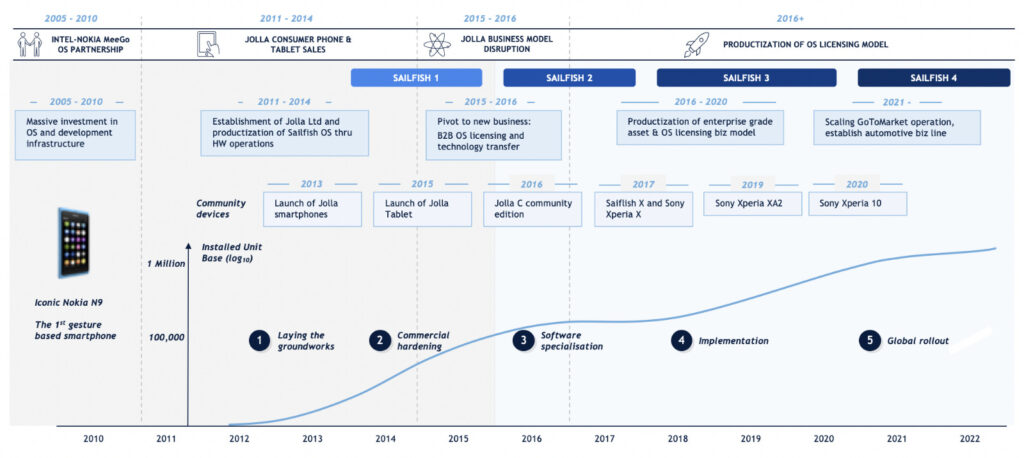 The current phase in Jolla's strategy is to continue to push further the Sailfish OS go-to-market operations, and secure new industrial clients for the asset to serve various corporate and governmental sectors.
A very interesting new strategic development area for Jolla in 2021 and further is our unique AppSupport for Linux Platforms. Having the capability to run both native Qt apps and common Android apps in one user experience and with consistent integration with the underlying platform has been a key feature in Sailfish OS from day one. Without it, Sailfish OS probably would not even exist to begin with. Jolla is now offering this technology also as a standalone product for various use cases, and there has already been significant interest e.g. in the automotive industry for it.
Sailfish X community program
Sailfish X is our designated community program offering all interested techies to enjoy always the latest & greatest Sailfish OS as their daily driver. As a part of the 10-year celebrations we also have a few great updates regarding Sailfish X for you:
Sailfish X sales expansion
Since the introduction of our community program Sailfish X, we've received lots of requests from all around the world for the product. We are now looking to expand the sales to several new markets around the world starting in early 2022. We are targeting to open the sales in phases e.g. in the US, Australia, New Zealand and re-open the sales to the UK.
The next reference device – Sony Xperia 10 III
The next reference device for Sailfish X will be the new Xperia 10 III, which we're working hard to bring available to all of you in early 2022.
10 year special discount
As a birthday treat, we also offer a special discount to all interested to experience Sailfish OS: get a Sailfish X license for your preferred device for only 34.90€! This is a limited time offer. See our shop for more details.
A massive thank you to YOU!
Jolla's story would not have been possible without a passionate and active developer community. Personally, and from the Jolla company, a HUGE THANK YOU for being part of this journey so far!
Thanks also to all our customers, partners, fans and followers – there are too many to mention by name, but you know who you are.
And finally, an extra BIG thank you to each and every one who has been a sailor during these 10 years. You have truly shown your love & passion to the company!
Online event today October 14, 2021: you can participate our 10 year celebration event in Berlin today at 6.30pm CET through our Facebook Live event.
Let the sailing continue!
Your Jolla captain, sincerely,
Sami