The first ever International Sailfish Community Event also known as ISCE was held on Friday 17th of June 2016.
For me as a fresh Community Manager and a long time Sailfish community member the event was a dream come true. The event had a lot of Jolla values in it, stirring with love & passion! The community was showing us their love, and we did our best to show the community what they mean to us. Many of you have shown us over the years what you can do to help us and the other community members. There's a lot of value in it.
The event on Friday the 17th was full of energetic people and good Sailfish spirit, already starting from the queue to receive the Jolla C devices, T-shirts and nametags before coming in.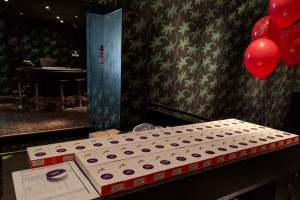 The event program was started with a keynote from our co-founder, Sami Pienimäki. With a title "What's up Sailfish OS?" Sami's presentation was about the current state and future outlooks of Sailfish OS, and of course, the community.
Here is a video of the keynote:

After the keynote we arranged three workshops for the community participants, talking about various topics related to Sailfish OS:
Hardware adaptation workshop – Carsten Munk, HW Adaptation

Sailfish design workshop – Martin Schüle, Chief Designer

Sailfish user interface live coding workshop – Joona Petrell, UI Chief Engineer

For Joona's workshop, we have some cheat sheets that you can use for UI design:
Theme cheat sheet
Silica cheat sheet
Icon reference
Example code
As promised earlier to Community Device Program participants, there will be more online sessions arranged during the coming months on other fun and important topics regarding Sailfish OS development. These will all be shared publicly afterwards.
After all of the geeky workshops and tutorial sessions done by Sailors, we started having some drinks and talk about even more geeky and nerdy stuff. Some of the community members showed off their stunningly done hardware adaptation projects, then we had a rather nice dinner served to us, until we left the venue for the afterparty.
I would like to thank the community for attending and making this one of the best community-oriented events of all time and present you with some of the nice photos taken during the event in a gallery:
If you made it to the event, would be nice to hear about your experiences in the comments below!
Cheers,
James