We are proud to tell you that the world's first crowdsourced tablet, the Jolla Tablet, has returned to Indiegogo.com. After the successful first phase of our Indiegogo campaign in Nov-Dec last year, we're now moved to the next phase, and continuing our campaign on Indiegogo at least until the end of February 2015.
You now have the opportunity to contribute for the Jolla Tablet and secure your place among the first to receive the unique Sailfish OS Intel-powered tablet with killer specs! In this second phase of the campaign the Jolla Tablet price ($219/$249) is lower than what the expected retail price will be later this year ($249/$299).
By contributing now you'll receive the Jolla Tablet in the second quarter this year, right after the first contributors. The development work is progressing really well, and we are on schedule to deliver!
Hardware update: microSD + new 64GB model + bigger battery 
If you've contributed already to the Jolla Tablet, we want to thank you again for helping us to reach the stretch goal of $1.5M and enabling the support for up to 128GB microSD cards. This stretch goal generated lots of good discussion in our community, and we listened closely!
We've decided to move forward with an open source memory card solution. This enables you to use memory cards up to 128GB on your Jolla Tablet for back-ups and additional storage, but due to Microsoft's licensing limitation, cards over 32GB that are formatted in Jolla Tablet will not be readable with Windows computers or devices that advertise microSDXC support (cameras/phones/tablets). We apologise if you were expecting full Microsoft support here, but we feel that this suits best to our community's wishes and the open source ideology of Jolla.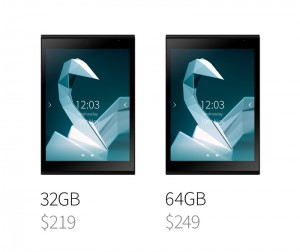 We are also now introducing the 64GB Jolla Tablet! Just select the bigger memory perk and you'll not run out of memory too soon. If you've already contributed to the 32GB version earlier you can easily upgrade to 64GB with just 25USD by selecting the specific perk. Please note that this upgrade price is only valid for 2014 contributions.
Further updates: the battery size of the Jolla Tablet has been slightly increased to 4450mAh (previously 4300mAh), the display is now fully laminated, and we've added gyroscope and compass sensors. However, proximity sensor will not be included in the Jolla Tablet unlike previously mentioned.
A great Jolla bundle now available!
To celebrate the new phase in our campaign, we now have a special tablet and smartphone bundle offer for you! While waiting for the Jolla Tablet you can experience the great Sailfish OS multitasking on the Jolla smartphone. Choosing either the $419 bundle (32GB) or  $449 bundle (64GB) now you get amazing value for money.
The Jolla Tablet perks now available on Indiegogo:
Jolla Tablet 32GB: $219
Jolla Tablet 64GB: $249
64GB upgrade for early birds: $25
Shipping: $20
The Combo: Tablet 32GB & Phone: $419
The Combo: Tablet 64GB & Phone: $449
We're so excited about this second campaign phase, and hope you are too!
Join us in making the first Jolla Sailfish OS tablet a reality!
Jolla Team