mapbagrag® is the design brand behind the beautiful covers and cases for both Jolla smartphone and Jolla Tablet. The small company from Graz, Austria is doing something that sounds impossible: creating mobile and laptop accessories out of paper.
With this blog post, we are starting our new partner series to tell you the stories behind the great companies we work so closely with.

The early days of mapbagrag
The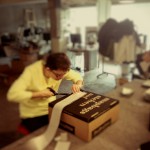 idea for mapbagrag (officially part of the marketing and design office plusminus design®) dates back to 2009, when the two founders Angelika Krenn-Hazmuka and Florian Hazmuka participated in a design competition in Vienna, Austria. The aim was to create a marketing gadget for the city of Vienna. The couple confirms that they had lots of fun creating the product, that ended up being a bag, printed with a map, that could also be used as a rag – hence the name of the brand.
At first the map-bag-rag seemed just like one of the many projects plusminus design® had at the time, but Florian felt that there was something more to it. The concept would need to be simplified, to become something small and easy to produce – like a case for a phone. "The beginning was a lot of hard work," Florian admits. "First we needed to find super-strong paper and combine that with long-lasting print. Then we needed to find partners who could make all that with us."
The "paper that feels like paper"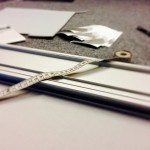 Usually, if you get an idea, you put it on paper. But in mapbagrag's case, the idea is to do it with paper. "I investigated three years for the perfect paper and print combination," Florian explains. "We wanted the paper to be strong enough to hold up to hard use, to life." mapbagrag uses waterproof and tear-resistant paper that's made out of 25% recycled material with non-toxic and neutral pH-value. In addition, all mapbagrag products can be machine-washed in 30-40 °C.
A design that gets better when it gets old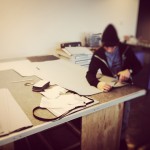 mapbagrag designs and produces all their products from beginning to end. They use both their own designs and customer's own motifs. mapbagrag cases for Jolla smartphone and Jolla Tablet are available with Jolla's own designs Code (only for the smartphone) and Origami.
There is a new variant of mapbagrag created every day and the best samples are kept for production. "One of our most used designs, Fotoalbum, is made of real photos from my grandmother's collection.  Also the Letter is an actual letter from my great-grandmother," Florian clarifies. Sometimes the ideas come from the environment: one design inspired by the company's home town is Graffiti, which used to be painted on a bridge in Graz until the town officials wiped it off. "The people really liked it so we wanted to save the landmark in another format."
Each mapbagrag is different and grows its own personality over time. "The art of our products is that they get more realistic and authentic when they get older," Florian explains and shows his own case with the letter-design, which starts to look and feel like a real love letter from the good old times.
Small company with a passion for high quality 
For many years, the couple behind mapbagrag took care of everything from production to selling. For them it was really important that all the materials and the production were made in Austria, or as near as possible. Currently with three official employees, they also offer the possibility for disabled people to work for the company.
mapbagrag has put a lot of effort in finding partners that work according to similar fair and simple ways, that are European and can produce small quantities according to specific requests. "High quality is assured by our excellent partner relationships and producing everything locally. If, one day, we go to America, we would most likely produce there locally too," Florian says.
Following Jolla for a year convinced enough to contact
So how did the collaboration between the two companies start? Florian tells that he had found Jolla through an article in Engadget and followed Jolla for one year before getting in contact. Being a Jolla owner himself, Florian has come to love the philosophy behind Jolla and Sailfish OS and promotes the smartphone to his clients too. "It has been easy to work with a relatively small company like Jolla. It is clear that Jolla has a great community that has brought us too many good questions!"
Even though at the moment most of mapbagrag's products go to business customers, all the bags and cases can be ordered from their own webshop. They have also their own designs for Jolla, check them out!
The special mapbagrag® cases for Jolla are: