The new software release, Sailfish OS Oulanka is now available! This time, the name for Sailfish OS 3.0.2 update was inspired by one of our sailor's favorite locations: Oulanka National Park.
Oulanka is a national park in Lapland and Northern Ostrobothnia regions of Finland, covering 270 km². This park is known in Finland by adventurers due to it is famous trekking route, Karhunkierros, a four day – eighty kilometer route – located in Oulanka and accessible all year round. Oulanka was the first of the two Finnish national parks to become part of World Wide Fund for Nature's PAN Parks.
Release Highlights
Oulanka brings in some new Sailfish OS features, and over 44 fixed issues reported in Together.Jolla.com.  With this new update you will find that the Top Menu has a new switch for silencing ringtones and there's a new battery saving mode to make the most out of low battery in those moments you need to stretch productivity. Email app supports now sending read receipts to inform that you have read the senders' email. Connectivity was improved in terms of firewall and global proxy. As for the user interface, home screen had memory optimizations for handling wallpapers, freeing memory for running other apps.
Power management
Power management in Sailfish OS has been improved. This is possible thanks to a new battery saving mode.
Battery Saving Mode
In Oulanka we introduce a new battery saving mode, which  is automatically activated by default when the battery level goes bellow 20%. You can enable or adjust the battery saving threshold in the  new battery settings section. To do this, just go to the settings menu, scroll down to the bottom and you will find the new "Battery" section.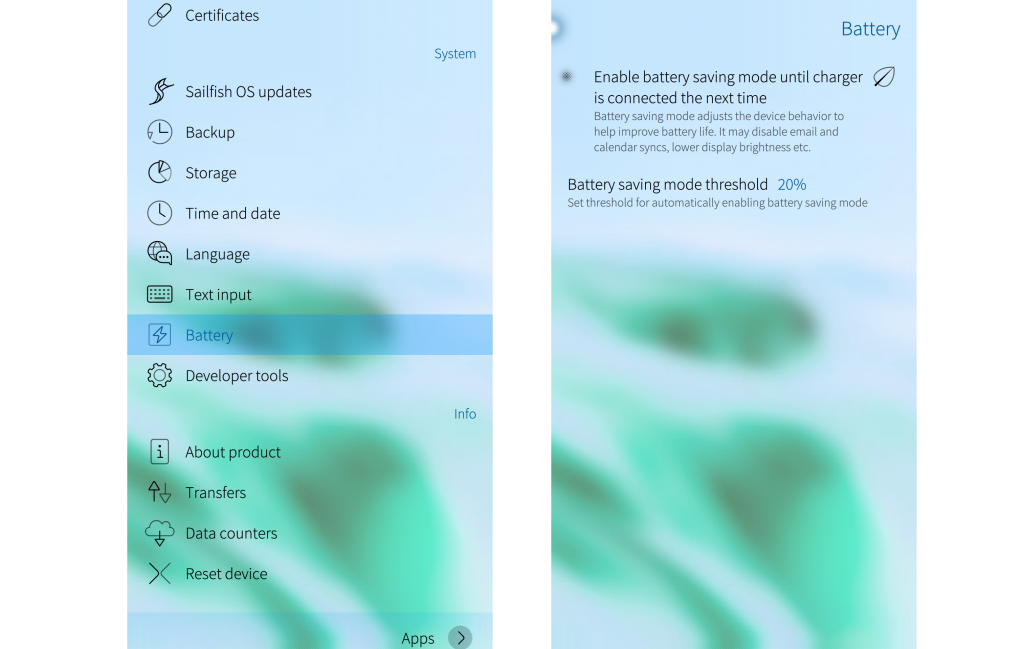 Connectivity
As for Connectivity, Sailfish OS copes better in environments with large numbers of Bluetooth and WLAN devices. Bluetooth and WLAN network scan no longer slow down your device. As well the Firewall introduced in the previous update, Sipoonkorpi, gained many improvements, in general robustness and IPv6 support in particular.

Corporate API
Improvements have been made to the Corporate API. It should be noted that by default all Device Management features are disabled on vanilla Sailfish OS devices. Some of the devices management API's created include Data counters, call statistics, location data sources, proxy settings, app auto start, roaming status, and cellular settings.
Sailfish X Beta for Xperia XA2
Sailfish X continues to be a Beta release for Xperia XA2 with the Oulanka update, but we have fixed several important issues, and will continue to improve in the following Sailfish OS updates. Oulanka improves several aspects of Android™ 8.1 App Support Beta for Xperia XA2 devices. Android apps can now more reliably connect to Internet via mobile data. There is still an issue in using second SIM of a dual SIM device, and in some cases apps do not correctly detect connectivity status. Apps that had invisible icons should now have their icons correctly presented in the App Grid. Using force stop for an Android app from app setting now works correctly without wiping app data. Lock screen control support for audio playback was  added for Android apps. Memory leak and other issues were fixed to improve overall stability.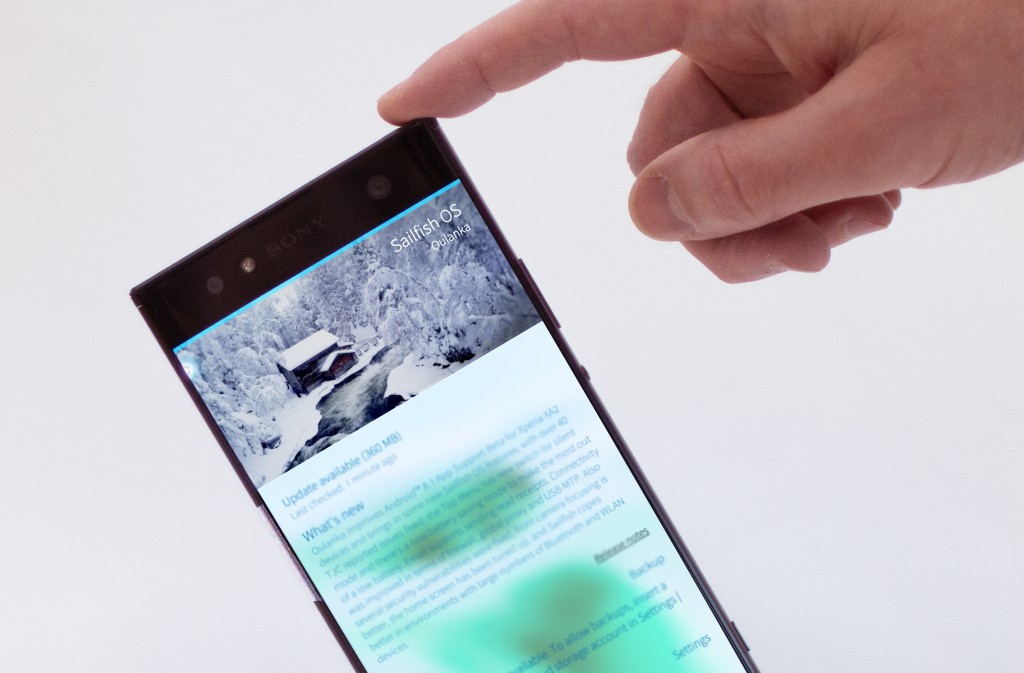 There are still important issues on XA2 that we are aware of and working to fix them as soon as possible, for these complicated issues we need time to completely analyze and fix. Two major issues on top of our list that we continue to work on are battery drainage, and the malfunctions in the proximity sensor, which create a black screen after answering a phone call.
Bug Fixes
As always, we want to thank our community for your continuous support and help! Some bugs that were fixed include; events view not loading correctly and Calendar crashing when deleting entries, just to name a few.
For more information please read the release notes and for detailed instructions on how to update your Sailfish OS powered device please check it here.