Just last week all Jolla sailors gathered together to work on our plans for the past and coming month. A lot of things are cooking currently, which naturally means both excitement and growing stress levels as deadlines are closing in soon. We are now putting in all our passion and love to the work – we're determined!

Ready, set, Mobile World Congress 2015!
Preparations for our biggest event push of the year, Mobile World Congress 2015 in Barcelona, are progressing nicely. We have a super cool location for our booth (Hall 1, 1F40), and I can't wait to see it in person,  it's going to look amazing! Last week we sent out our invitations for business partners, for our press event and for industry analysts.  The interest from the press was so overwhelming that our PR department entered a positive problem with an overbooked venue – we've working on arranging an extra session to fulfill this need. Many major industry companies are also scheduling to meet us and look at collaborating on the Sailfish OS development.
We're also really honored to have some community folks present at the event. Great to see all of you (you know who you are) in Barcelona, and look forward to working together to spread the word about Jolla and Sailfish OS! We wouldn't be here without you <3
If you want to meet us in MWC 2015, here's the contacts for you:
Business and general requests: info(at)jolla.com
Media and bloggers: press(at)jolla.com
Community: carol.chen(at)jolla.com
Come directly to our booth in Hall 1, 1F40
You can get into the MWC Jolla mood with our last year's video.

Sailfish OS development
On the development side we've been working hard to get the tablet hardware adaptation ready for Mobile World Congress. Most of the HW functionalities have been verified and tested, and now looks like we'll have a very nice functional tablet demo for the event. We've also worked a lot e.g. on the new UI framework (more on that in a separate blog post soon), and further performance improvements.
In the coming month we'll be focusing on demonstrating the Jolla Tablet's functionality at Mobile World Congress 2015, and technically one of the goals for the OS is to allow the user to gracefully recover from filesystem full condition. We also have lots of tablet specific work on the plate, including e.g. Bluetooth configuration work, integrating the microphone, optimizing the boot up and shutdown, Intel support for Android runtime work, and lots more.
As  for the next Sailfish OS software release, we are currently at release candidate 6 for Yliaavanlampi (update 11) and expect to be releasing soon. More info on that coming in the coming days.
Valentine's Day love from Jolla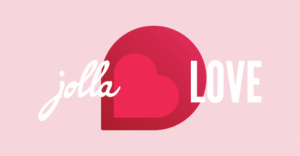 Last Friday we launched a Valentine's Day campaign offering the Jolla smartphone with a reduced price of 199€ for everybody. This Valentine's Day gift was made available for both the white Jolla and Limited Edition Angry Birds Stella smartphone. The offer still valid for a very short time, check it out in our store now.
With warm greetings, on behalf of the whole Jolla crew,
Marc