Sailfish OS Seitseminen is now available for download. We are very excited to bring you this Sailfish OS 3.1 update, which was named after the beautiful Seitseminen National Park. Seitseminen is located in the Pirkanmaa region, 50 kilometers away from our headquarters in Tampere.
Release Highlights
Sailfish OS 3.1 is our biggest update since the launch of Sailfish 3 last year. Seitseminen brings redesigns to core apps such as People, Phone, Messages and Clock. Other areas that have been improved include; Document viewers, Email, Calendar, Dual SIM Card viewer information and Gallery gestures which have been improved. These changes allow for a more intuitive use of the software. We identified the need to improve these core apps based on several user studies and on the specific needs of business users.
One of our big focus areas has always been security. We have now introduced file system encryption support which will be available for all users in the future, fingerprint authentication support for XA2 devices, updates to VPN to increase the security of your traffic from the first moment you use your phone and added protection to many system APIs and functionalities. For Xperia XA2, Android™ App Support has matured out of beta. In this blog post you will also find technical comments from sailors that worked on the software to get a better understanding of the updates that were made. Below we'll dive deeper into each feature!

Redesigned Apps
In order to ensure that the platform evolves in the right direction, feedback from multiple user studies was gathered to understand better the pain points of Sailfish OS users. This has led us to identify areas that need improvement. Seitseminen includes new redesigned look and feel to People, Phone, Messages and Clock apps. These changes improve the use, organization and effectiveness of several apps. While working on these, we also conducted usability evaluations to understand better the perceptions and needs of the user. Based on the results we evaluated if the new design improves the user experience. 
Bree from the UI team to commented on the usability tests "We interviewed users with different background for the test. During the test, we observed carefully how users actually perform tasks on Sailfish OS, the possible barriers of uses, unexpected differences between users, etc. We collected insights and feedbacks from the users and use them to ensure that our design decisions benefit our users. We also knew better what features to prioritize."
People
The People app has been redesigned to boost efficiency and be more user friendly. Specifically, we have redesigned three different views: the contact picker, contact card, and contact editor. In the main view and other views where contacts are accessed you can now find the contacts reorganized in an alphabetically grouped list. On the right side of the screen, for easy access, you can navigate to a contact by dragging over the new alphabetic scrollbar. The contact card has been organized to display contact details more efficiently, and reduce the steps needed to perform common actions to a contact. The contact card will also preview right after creating a contact letting you check the display of their information. The new contact card requires less steps in order to access its information and actions. It also uses the available space more efficient.

Phone
The Phone app has also received a major overhaul. Phone app introduces a new UI component, Tabs view. We aim to remove navigation options from pulley menu into three tabs: Dialer, History and People. With this change you will find easier to use the dialer with one hand. For the call history view, it is now possible to support basic and detailed modes. This is for business users who need more details on the call information. For example, sales people filter their calls based on call duration. The detailed call history allows you to see additional information like the call duration and dual-SIM information. You will also notice that the incoming call dialog now allows you to reply to the caller easily with new predefined quick messages. The dialer and contacts phone number fields support dots and commas, which means DTMF tone wait symbol handling is now aligned with the industry. Finally, similar to the People app, you can now save and edit contacts without leaving the app.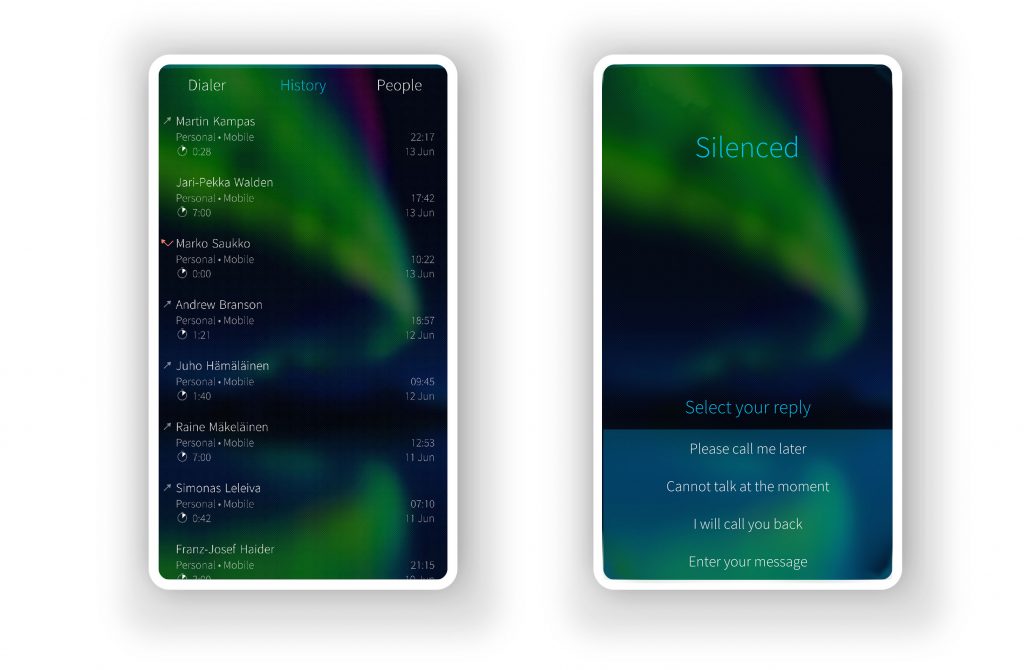 Messages
The Messages app includes new changes to the conversation view with the goal of making clearer with whom the user is chatting, improve legibility of messages and the access to call options. This comes from the need of business users to have more information about the conversations they are having with their contacts. You will notice now that we have introduced a header area with the name of the contact of the conversation and a call button. Earlier we showed the contact name as part of the input field empty state text. In our usability evaluations this caused confusion, and it was perceived as already entered text. The new header area with the name of contact makes it clearer and easier to know the name of the contact person. Furthermore, we have included bubbles to the messages so that they enhance and organize the app view. By tapping on these messages, you will be able to see more information about the messages, this includes the full timestamp, the SIM card, used number, delivery status and sending failures. In addition, to simplify the process, if you receive a message from a new number, you can now save and edit their contact without leaving the Messages app.

Clock
The previous design of the clock app displayed all the alarms and timers on the same screen. This could make for a crowded and unorganized screen. In Seitseminen we have improved the experience of the clock app. Now you can find the timers, alarms and stopwatch organized as tabs at the top of the screen. These changes gives the app a cleaner and more organized look. This new look also allows you to find timers and alarms by swiping between the tabs.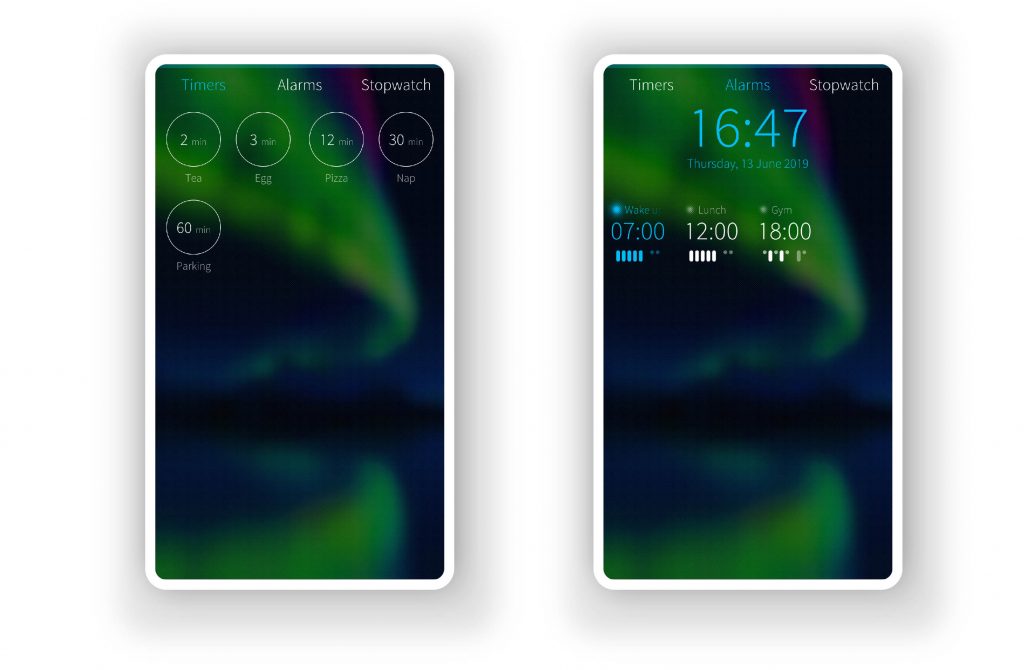 Other Changes
There are four other changes, which we will be highlighting in this blog post. These involve Documents, Gallery, SIM indicator, and the text editor cursor. For the Documents app we have redesigned the document viewers for PDF, text documents, spreadsheets and presentations. Documents app now supports opening plain text files; when opening text (.txt) files the user is now prompted whether they want to open the file in Documents or import to Notes. Another change you will notice is in the Gallery app. You can now just tap to zoom out of the zoomed photo, compared to before when you needed to double tap to zoom out, which many users struggle to discover. Finally, the text editor cursor now blinks to better visualize what field has the focus in texts. Even if the changes are small, we are always looking to improve the functionality and easiness in the use of the software.
First time users
User studies performed before 3.1 highlighted various issues new users face when starting to use a Sailfish OS device. In Seitseminen release we have improved hints and guidance shown to new users to address these pain points, for example how to take a screenshot, close all apps in Home, switch between layouts in keyboard, and so on. For old Sailfish OS users, we have introduced a setting to disable all in-app hints and tips in "Settings > Gestures > Show hints and tips".
Security
Sailfish OS now supports home partition encryption that contains user data like messages, emails, documents, settings and accounts. Home partition is unlocked with a security code at the early stages of the device boot.  This feature is not yet enabled for Jolla or Xperia products, however we will be expanding the support for other devices in the future. Security code authentication is now required before you can view passwords in Settings app, in particular WLAN, Internet sharing, mobile access point and VPN setting passwords.
VPN
To ensure that all your traffic is secure from the beginning, in this update we have added the possibility of enabling VPN prior to activating a network connection. The text "Waiting for network…" is shown in Settings in this situation. The Top menu toggle can be enabled regardless of network state. In addition, VPN connections were made more robust and less sensitive to problems.
Jussi from the Middleware Team comments on the VPN improvements: "VPN connection state tracking has been improved to work better in case of rapidly changing network conditions, re-connections and disconnections, to ensure that routes are properly set and DNS remains functional. VPN agent support has been implemented to VPNC (credentials are removed from VPNC settings advanced view) to ensure credential saving between reboots. Improvements have been also made to VPN credential dialogs for disabling autoconnect when user selects "Cancel". All VPN plugins and corresponding VPN UI dialog components are now shipped as separate packages to allow OS image customization."
Email and Calendar
We have added some features to the Email and Calendar app. You can now set out of office reminders for your Active Sync email account in Active Sync settings. In the account settings, you will find a new section "Automatic replies" with a button "Modify" to change this feature. You can also create ActiveSync meeting invitations through in Calendar. Finally setting up your email account is more robust now, which will lead to less problems.
Sailfish X and Xperia XA2
New and exciting changes are available now for Xperia XA2 users. Sailfish X and Android™ App Support for Xperia XA2 have now reached commercial quality and therefore we have taken away the Beta title from them. In this update we have added fingerprint authentication: you can now replace the security code with fingerprint authentication in Xperia XA2 range devices. If you choose not to use fingerprint you still need to go and re-enable your device lock. To activate the device lock do not forget to visit Settings > Device lock.
Android App Support has been greatly improved. Some changes include WhatsApp behaving better after closing a video/voice call.  WLAN support has been enhanced, meaning that Android apps can detect active WLAN connections now. We have also improved the notifications framework to alert users through some action, example waking up the device or making a sound. You can now find Sailfish X at shop.jolla.com for its original price of 49,90€.
Upgrading from Free to Paid Licence
If you are upgrading from Free to Paid licence you don't need to repeat the intallation from the beginning the only action needed is to purchase the paid licence from shop.jolla.com. The licence is tied to your Jolla account, which you used to purchase the licence. When signing in to this Jolla account from the device, the licence becomes also tied to the IMEI code of the device. Hence the licence is valid on one device and one Jolla account. The licence cannot be transferred from one device model to another, i.e. they all need separate licences.
As always, we want to thank our community for your continuous support and help! Furthermore, we would like to extend a special thank you to our partners at OMP, Open Mobile Platform in Russia. For more information please read the release notes and for detailed instructions on how to update your Sailfish OS powered device please check it here.