No doubt you'll already have read about the transition of Sailfish OS into its fourth generation. And that, of course, also means a new Sailfish OS release. We're very pleased to announce Sailfish OS 4.0.1 Koli, one of our biggest Sailfish releases for a long time. There are far too many improvements to cover all of them in detail here – you can check details from the release notes. In line with our version 4 naming, we've chosen to look at four significant improvements below.
But before getting in to that, you'll of course want to know about Koli. The Koli National Park is in the North Karelia region of Finland in the east, hugging the western shore of Lake Pielinen, which you can see in the update photo. It's not hard to see why the beautiful vistas provided inspiration for Jean Sibelius, the most famous Finnish composer. The photograph also shows the characteristic white quartzite on the Koli "vaara" (amongst the many words for "hill" in Finnish, "vaara" is the second smallest).
Browser update
In Sailfish OS Pallas-Yllästunturi we brought you an important update to the browser, bringing the rendering engine to Gecko version ESR52. With Sailfish OS 4 Koli we've pushed further, bringing it up to version ESR60. This means improved performance and website compatibility, not just within the browser itself but everywhere the Gecko engine is used, including for third-party apps.
From a technical perspective, updating the browser engine to Firefox-based Gecko version ESR60 has been an important milestone because it introduces Rust programming language into the upstream Gecko codebase. Rust was already discussed in the Pallas-Yllästunturi release, but at that point it was experimental. Sailfish OS 4 Koli is the first release where we're actually taking Rust into use, meaning we can now get future browser updates rolled out more easily.
The browser isn't just the rendering engine of course, and you'll also notice improvements in browser features elsewhere too. We've beefed-up the privacy controls with site-specific permissions and tightened security when logging in to public wifi hotspots. Bookmark and history management have been extended, and you can now access the improved Settings from directly within the browser. You can also now save out pages to PDF for sharing and later offline reading.
Many of these changes were contributed by and developed in collaboration with our customer OMP, with all of the code being released as Open Source and available in our source code repositories. This is an important example of how our open source strategy benefits all users, customers and the community alike.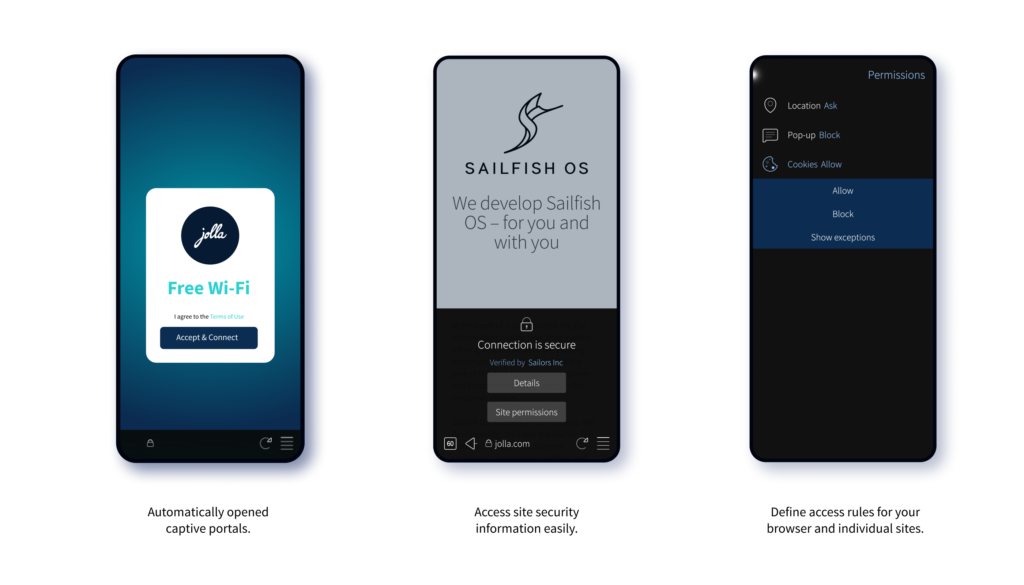 Firejail app permissions
There are many reasons to choose Sailfish OS over other mobile operating systems, but at Jolla we never forget that privacy and control are things our customers care deeply about. That's because we care deeply about them too, and that's why we've introduced Firejail app sandboxing into Sailfish OS 4 Koli.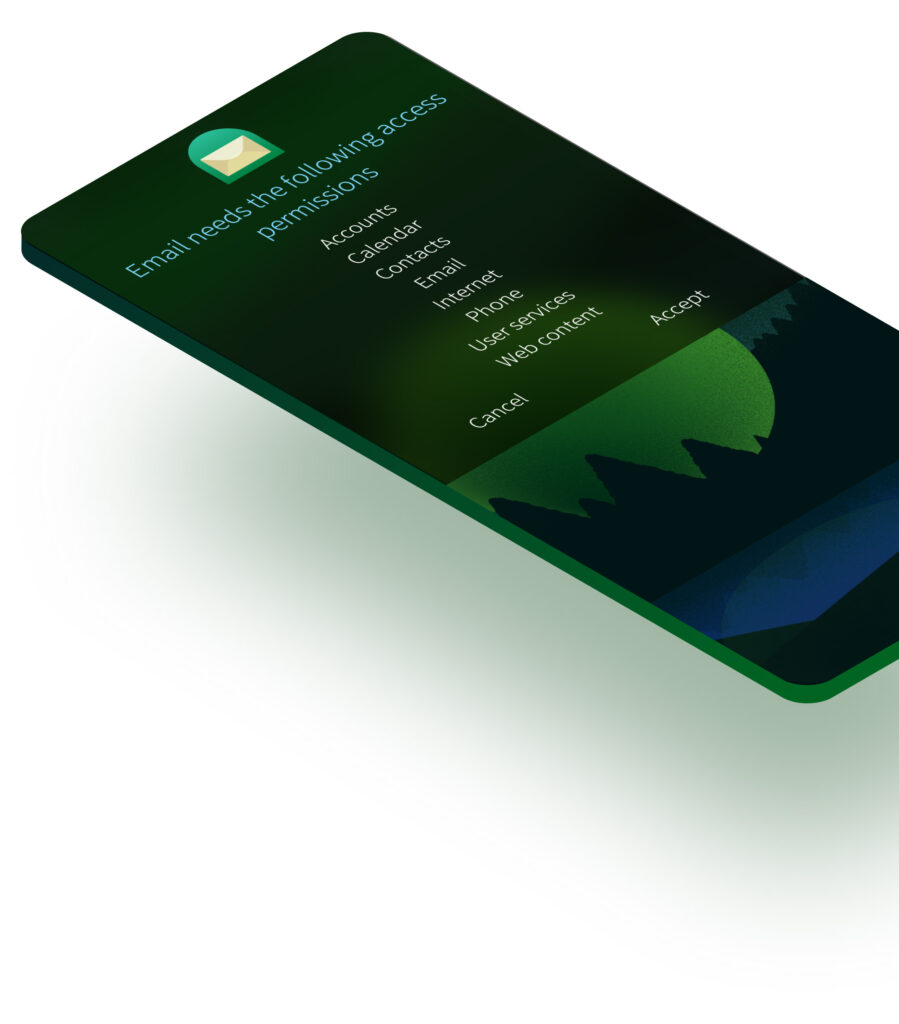 When you first run an application, the Firejail app sandbox will make clear which permissions an application needs in order to run. A Firejailed app is prevented from accessing any of the functionality not granted on the list. Why is that important? We know Jolla developers are trustworthy, but there's always the possibility someone will release an app containing rogue code, or with an accidental vulnerability for an attacker to exploit. If this happens, it's reassuring to know the app is confined to minimise any harm it can do.
Some users may be concerned that this increasing security and privacy may impact the control you have over your own device. Rest assured this is not the case. With developer mode activated you're still free to execute apps outside the sandbox if you prefer. In contrast to other mobile operating systems we want all Sailfish OS users to have full control of their devices, while ensuring malicious hackers don't.
In the latest release many of the Jolla apps are sandboxed by default, but we're not yet applying this to third party apps. Sandboxing prevents the use of boosters and QML pre-compilation, with a performance penalty we're working to avoid. Restricting its use initially to a selected set of apps will give us the chance to iron out some of these kinks before we activate it for third party apps in a future release.
Android App Support
Since the very first release of Sailfish OS, Android App Support has been an important part of our offering. In Sailfish OS 4 Koli we're reinforcing our commitment to seamless integration of Android apps with the broadest possible compatibility.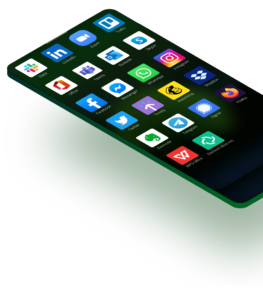 We're bumping Android App Support up to Android 9 "Pie" on the Xperia XA2 and 10, an improvement that's required many changes under the hood. For the end user it means even better compatibility with the latest Android apps and support for API level 28. Crucially it also allows better alignment with the underlying drivers, making it more stable and easier to maintain in the future.
Integration with the rest of the operating system has also been improved, and will continue to be as Sailfish 4 develops. Already you'll notice slicker integration with settings, notifications and the keyboard, and multiple bug fixes to make Android apps work even better on Sailfish OS.


A slicker, clearer, UX
The Sailfish 3 era saw improvements to the apps and user experience across multiple areas, including call experience, Events view, messages and more. With the jump to version 4 we're not reinventing the UI, but are continuing this trend of making significant improvements to functionality and usability.
We've made careful but impactful changes to the UI to increase legibility, all without undermining the beautiful Sailfish OS aesthetic. We've improved how notifications work, allowing the most common tasks – such as replying to an email – to be triggered directly from the notification. Images can now be embedded in notifications, and housekeeping has been given an overhaul with increased use of gestures for dismissing notifications either individually or in groups. The new functionality is available to third party developers, allowing deeper integration between apps and the operating system.
Contact management is another area where we've made big strides forwards. You'll already be aware of the useful UI changes in previous releases and now we've introduced the concept of separate address books for contact storage. This allows, for example, a clear separation between work and personal contacts; especially useful in a business context. Not only does this help with organisation, it also offers greater control over contact syncing between different accounts.
QR code scanning has been integrated directly into the camera app. Just turn it on in the camera settings and any code in view will be automatically identified. Amongst the many other features and bugfixes, you'll now see warnings about the use of premium rate numbers, slicker VPN configuration and improved calendar management. Community member Damien Caliste deserves a special mention for the astonishing number and quality of calendar improvements he's contributed.
We're proud of the fact that during development of Sailfish OS 4 Koli we fixed more bugs than in any of the version 3 releases preceding it. We're also proud of the amazing contributions from OMP and the Sailfish OS community, be it in the form of code, translations, bug reports ideas and support generally, that allow us to sail forwards even faster.
As we said at the start, Sailfish OS 4 Koli represents an important milestone for us, but it's as much about the future as it is about the present. The fourth generation of Sailfish OS will see more improvements to the acclaimed Sailfish OS user interface, better compatibility with websites and Android apps, improved, slicker functionality throughout, and an improved developer offering. We're looking forward to sharing the journey with our partners, customers and community.