Finnish Lapland has the cleanest air in the world and Pallas-Yllästunturi National Park in Lapland is Finland's most popular national park. The landscape of Pallastunturi Fells has been chosen as one of Finland's national landscapes. The park's location north of the Arctic Circle means that it experiences the typical weather and natural phenomena associated with seasonal changes. On clear evenings and nights, planets, stars and the northern lights may be visible in the sky.
The 3.4 Pallas-Yllästunturi release includes several updates that enhance the experience on-device, enable new possibilities for developers, and incorporate new features for our corporate customers. Several improvements in this release were developed in collaboration with Open Mobile Platform for Aurora OS. Jolla appreciates the collaborative efforts of its partners and community in making Sailfish OS even better.
Browser moving forward
We've upgraded the browser engine to Gecko ESR52. This makes using the Sailfish OS browser already much more enjoyable! This isn't the end of the story though, and is in fact just the first step of our plan to gradually upgrade the browser. As the browser is open source, some of you may have already noticed from the repositories that we are continuing to upgrade the engine for upcoming releases. Newer browser engine versions bring in thousands of bug fixes, improvements to the rendering and compatibility with various newer browser technologies.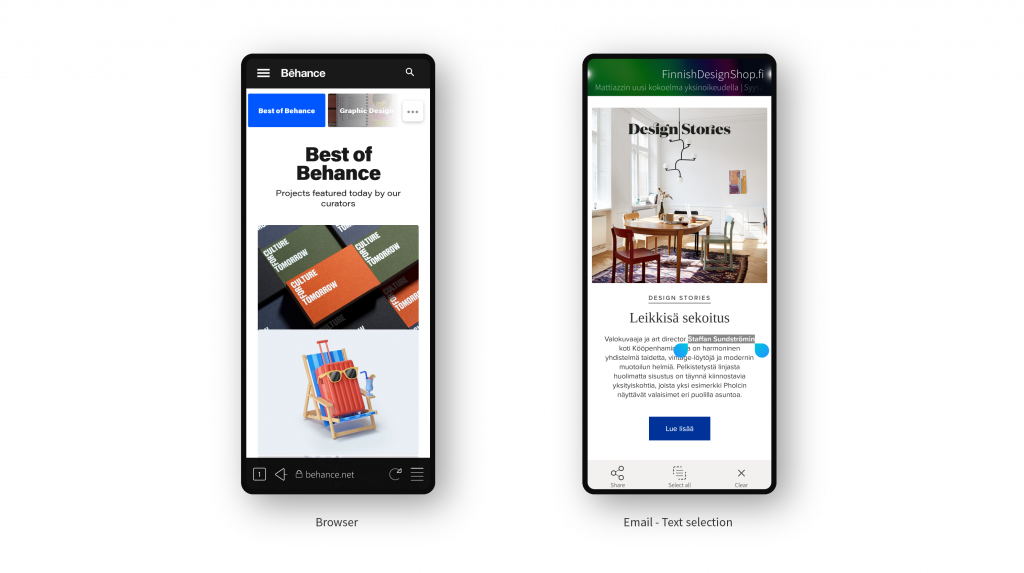 The engine upgrade also brings with it a positive effect on our email client, improving the rendering of HTML-based emails and ensuring it conforms better to common web standards. Copy and paste of HTML email text is also now available.
Developer Offering
We've included experimental support for the Rust programming language in this release. This addition is related to the upcoming browser upgrades, but we will experiment with using Rust in other areas as well. We welcome and appreciate all comments from the community about the behaviour and use of this addition and encourage you to share your experiences on the forum.
In preparation for future needs we are also releasing experimental support for 64-bit hardware (aarch64). This experiment is aimed at potential upcoming devices and is not currently used by any existing hardware. It should be noted by our development community that we do not consider the aarch64 ABI stable yet. Recompiling applications might be needed later when the 64-bit architecture becomes officially supported.
We invite our partners and community to take this into use where devices support it (e.g. HW ports) and to share your feedback via our forum.
We've also updated our Notification API so that the interface now includes progress information that can be displayed on the Events view.
Corporate features
Sailfish OS now allows multiple users per device. The multiuser case will be explained and described in more detail in an upcoming blog post, but briefly, in addition to the default user (admin) up to 6 additional users can now be added having more limited rights and capabilities.
Managing Sailfish OS-based devices is now easier with the new release. We've extended the functionality of mobile device management (MDM) with the ability to configure Active Sync accounts. ActiveSync accounts can also now be set up using a personal SSL certificate.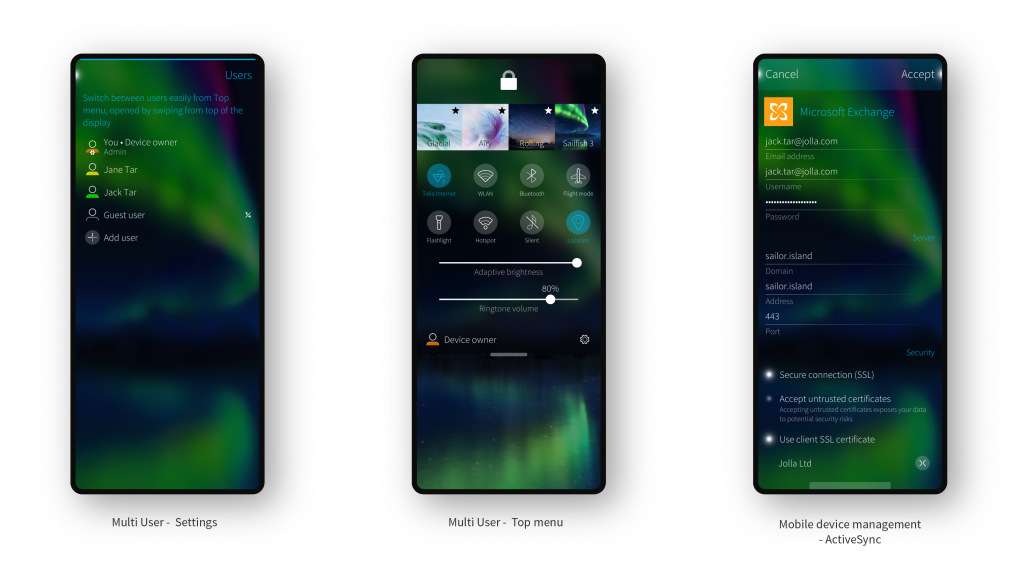 Hourly weather, enhanced controls for call handling and video playback
The weather information on Sailfish OS is provided by the Foreca weather forecast service. The Foreca API recently changed allowing us to integrate new services into Sailfish OS. We've added an hourly weather forecast to the Events view. Forecast information can be seen by expanding the weather banner. Tapping the banner in expanded state toggles between the daily and hourly forecasts.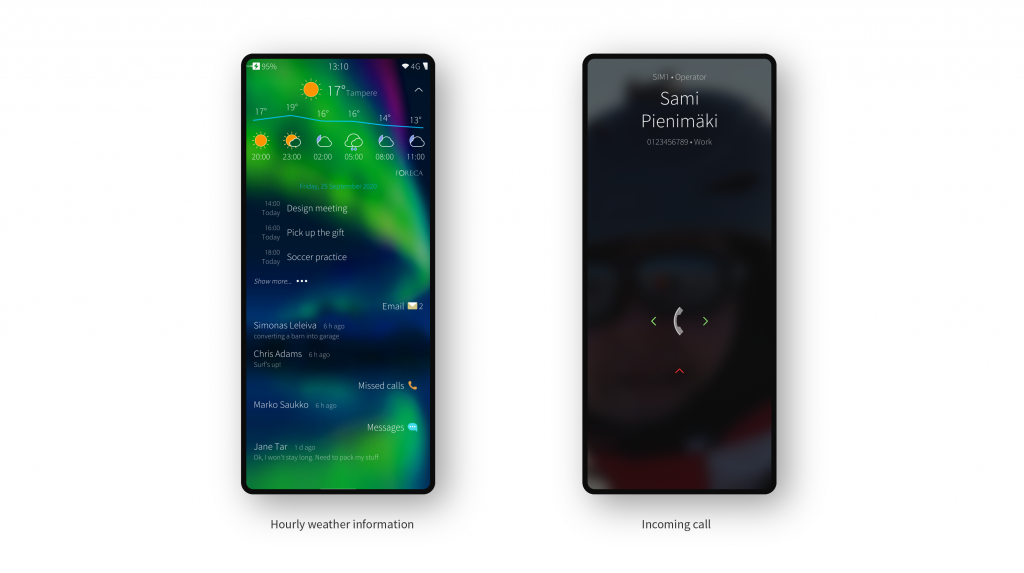 In this release we are continuing our effort to improve the call experience. In our earlier 3.2 Torronsuo release we improved the experience when rejecting a call and included features such as call reminders and quick messages. In this new Pallas-Yllästunturi release we have reworked the whole incoming call experience to further reduce the confusion reported by new users when handling incoming calls. Now just flick horizontally in either direction to answer a call or flick up to decline.
There are a bunch of other improvements to device interaction in this release. The full details can be found in the release notes, but here are just a couple of further highlights:
10 second forward and rewind actions have been added to the video player;
the Romanian language and keyboard are now included.
Security and device settings
Automatic (scheduled) backup to selected cloud services is now available in this release, so you don't have to remember to backup your data manually any more. Automatic backup currently stores your accounts, bookmarks, local contacts, calendar events, messages, notes and call history. Online data like emails are not backed up, but can be restored by syncing the respective accounts. Note that Gallery images and videos are not yet included in the backup.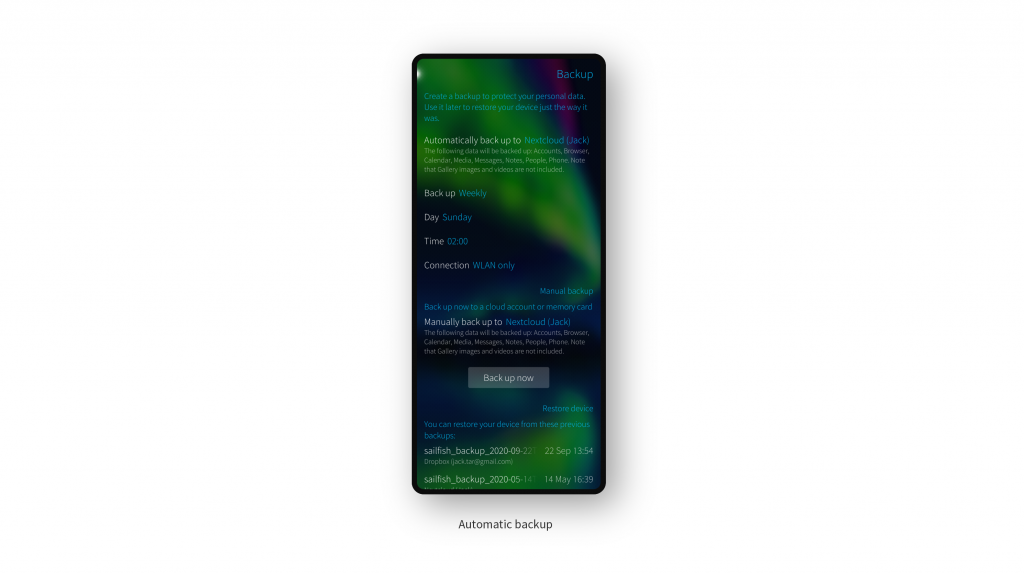 All new devices (Xperia X/XA2/10) have home encryption turned on by default. The encryption enforces the use of a security code. The security code setup is presented during the first startup of a new device, after flashing a device or after a factory reset.
We think the Pallas-Yllästunturi release of Sailfish OS has improvements that all of our users can benefit from and will appreciate, and we certainly hope you enjoy the upgrade.
Detailed release notes are available in our forum.