After a very warm summer here in Northern Europe, many well deserved holidays are taken and many sailors are now rested after a year of full-on work. Sailors that were on duty during the summer have however worked on the latest iteration of Sailfish OS updates for our customers & community! After much developing and testing, we are now ready to release Sailfish OS 2.2.1. Sailfish OS 2.2.1 is named after the river Nurmonjoki which is located 300km north of Helsinki, on south western part of Finland.
In this update, we have – as usual – delivered many new features alongside various bug fixes for you that we are going to go through a few of, in this blog post. 
Release highlights
Nurmonjoki is now fully aligned with GDPR in terms of your Jolla account and "About Product". Document sharing, email app optimizations and account log-in bug fixes are only a small portion of what has been added and fixed in this update. 
Email & Calendar App: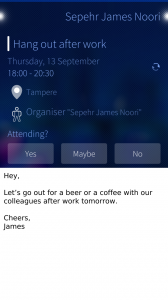 The email app has been a long awaited update in the Sailfish community. It is now time to deliver certain useful new features to the app, such as accepting/declining meeting invitations with integration to the calendar app, support for "read receipt", and fixes such as several improvements in handling email attachments.
Accounts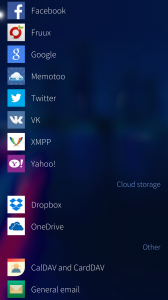 An important part of a modern mobile operating system is the accounts section. That is why we do our best to keep it up to date with the latest APIs and security features needed. We have resolved the login issues with Facebook and Dropbox accounts and also aligned our Jolla account settings with GDPR guidelines.
VPN
Default route option has been added to VPN – connected VPN acts as the default route. Automatic reconnection has been improved, particularly in cases where the background transport gets changed from WLAN to mobile data or vice versa.
Bug fixes
Every release contains a number of bug fixes, many of which reported by the community. While naming a few of the fixed bugs reported by you, we would like to thank you for your continuous support and help throughout the years! 
A bug that was preventing the compass feature to work on the Sony Xperia X has been eliminated. A new fix  is also in place preventing album arts from appearing on your gallery and filling it up. Notification messages loop is now fixed as well and that is only a part of what our developers have been able to take care of on this update. 
You can visit TJC to read the whole release notes with full details about what has been improved, fixed or added to Sailfish OS.
You can also follow our detailed instructions on how to update your Sailfish OS powered device here. 
For those beginning from scratch, Nurmonjoki for Sony Xperia X (F5121 & F5122) are separately available to download through our webshop.
Special thanks to our development team working tirelessly on hot summer days to deliver this update! You guys rock!! 
Cheers,
James