Update 20/09/2017: We have now decided to discontinue the 2.1.1 update and instead put our focus and resources on the next release which is Sailfish OS 2.1.2 and finalise that. We apologise for any inconvenience caused. Thankfully, most of the devices affected by the bug that was in the early access release were fixed and we are in the process of helping the last few problematic cases.
Update 01/09/2017: The update is made unavailable due to a security code bug we found that would be a potential problem for some of our users. More updates will follow.
Update 29/08/2017: Sailfish OS 2.1.1 is now released to all Jolla devices (Jolla 1, Jolla C and Jolla Tablet)
Another rather sizable Sailfish OS release is now available to download for early access on Jolla devices. It brings a bevy of new features such as a new camera interface with direct access from the lock screen, Mobile Device Management (MDM) enablers intended for corporate usage, new VPN features, smarter calendar, faster email app startup and dozens of community-reported bug fixes.
Sailfish OS 2.1.1 Jämsänjoki is named after a river in the town of Jämsä, located in central Finland, flowing from lake Kankarisvesi to lake Päijänne.
Jämsänjoki introduces the ability of having a rather important feature targeted for corporate usage which is Mobile Device Management or MDM for short. It is used by corporate managements in order to keep the employees productive by enabling the employer to introduce usage policies to certain device activities such as OS updates, WLAN, side loading applications, sharing, location settings and more. This feature is not installed on vanilla Sailfish OS devices; however, Jämsänjoki introduces a number of APIs to the OS in order to make MDM compatible with Sailfish OS. We are also introducing a polished camera interface alongside with an easy way to access the camera directly from the lock screen without unlocking your phone by swiping up from the bottom edge of the screen. This feature can of course be disabled from the settings menu in "gestures" section.
Other highlights from Jämsänjoki
Upcoming events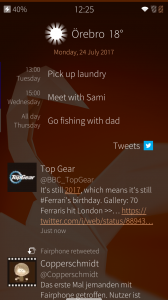 Jämsänjoki will now show you calendar events from upcoming days directly on your notification screen. This feature will help you stay on schedule easier than before.
Tatar language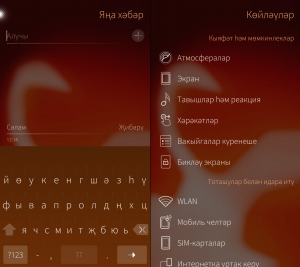 Our community votes which language should be next in line and contributes into translating Sailfish OS strings to those languages. Tatar language was chosen and translated by the help of our dear community for this update. Tatar keyboard was also added to the settings menu. Tatar is a language spoken by roughly 7 million people in the world, 5.2 million of which are located in Russia, so it was only fitting to our agenda and our latest releases in Russia to have this language added.
Bluez5 on Jolla C
This update is also going to allow the much awaited Bluez5 which we added the stack of to Sailfish OS on the previous update, Iijoki, to be put in use on Jolla C devices. This means that using Bluetooth Low Energy or BLE is now possible on Jolla C devices in order to save battery while having reliable and fast Bluetooth connections between supported devices.
New VPN types
L2TP or Layer 2 Tunneling Protocol PPTP or Point-to-Point Tunneling Protocol are the two new types of VPN that are being included on this update. This compliments the previous update, Iijoki, where we added the capability of using VPN on a Sailfish OS device.
Other improvements
There are dozens of other features and bug fixes added to this version of the OS such as improved Alien Dalvik on Jolla C devices, better connectivity features like the ability to edit saved and out of range WLAN networks and edit WLAN passwords, improved general reliability of OS gestures and many more that can be found in our official release notes here.
You can also follow our detailed instructions on how to update your Sailfish OS powered device here. We hope you enjoy this update and kindly report any bugs found so we can iron them out before the public release of the software.
Special thanks to all of our engineers, designers, and developers who worked tirelessly through the holiday season to get this update out in time! <3
Kind Regards,
James, on behalf of Jolla team