Today we are happy to announce the availability of Sailfish X for Sony Xperia 10. We also introduce a campaign giving all existing Sailfish customers a nice offer on the Sailfish X licence for Xperia 10, and for other devices.
As the latest additions to the Sailfish X product family, the Xperia 10 and Xperia 10 Plus have been reviewed as good value-for-money devices with eye-catching 6 and 6.5-inch 21:9 displays, and premium build quality. The devices are also the first Sailfish devices to come with user data encryption enabled by default. We think they're great devices and we think you'll love them too.
The Xperia 10 and Xperia 10 Plus can fully utilise all the latest features and updates in the recently announced Sailfish OS 3.2.0 Torronsuo release, including the latest hardware adaptation support updates, the enhanced security features, the latest Android App Support and more.
*Sailfish X offer for all Sailfish users
To celebrate the release of Sailfish X for the Sony Xperia 10 and Xperia 10 Plus, we have a special offer for all current Sailfish customers: you can now purchase a new Sailfish X licence for any supported Sailfish device for just 29.90€ for a limited time (normal price 49.90€). No matter which Sailfish based device you've been using, as long as you have purchased a licence or a Sailfish OS device, and activated your Jolla account, this is for you!
To be clear, this can be any Jolla branded phone / tablet, Intex Aquafish, Sony Xperia, Gemini PDA etc. The offer is valid only for a limited time period until December 31, 2019, so if you want to get a new Sailfish device, now is a good time for it!
To utilise the offer, just go to the Jolla Shop and log in with your Jolla account.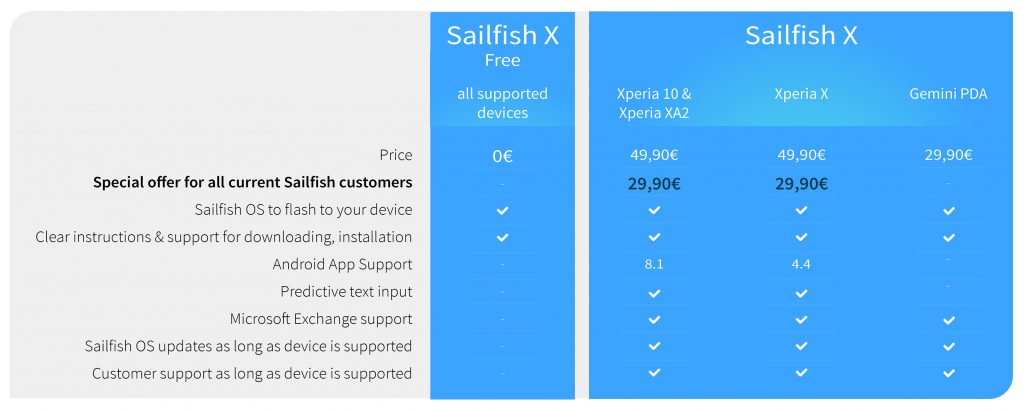 Sailfish X survey gave us valuable feedback
In order to better understand the wishes for the Sailfish X program, we conducted a survey during the summer of 2019. The response was phenomenal and many Sailfish X users gave us valuable feedback on satisfaction levels, availability, pricing, and other topics.
One of the questions was about wishes and willingness to switch to newer Sailfish X devices. Over 63% of respondents answered that they are interested in moving to a newer device with Sailfish X. This is one of the reasons why we've focused our efforts on introducing new devices and also why we are today announcing this special offer for current Sailfish customers.
We've also been exploring the possibility of switching to a subscription-based model for the Sailfish X program. From the survey we found out that the majority of respondents clearly do not support this idea, and hence we've decided not to continue on this path for now. Sailfish X is a community program at the end of the day, and we value the feedback a lot. Thanks to all survey participants!

About Android app support for Sony Xperia X
The Sony Xperia X device has been the pilot and the flagship for the Sailfish X program. It has now been two years since the first release of Sailfish X for Sony Xperia X and we've released many software updates supporting it up until now, and with more to come in the future.
Support for new device options is a constant request from Sailfish X program users. Adding new devices to the Sailfish X portfolio comes with a cumulative maintenance cost. This has resulted in a decision that we won't be upgrading the Android app support to Android 8.1 on the Xperia X, or other older generation devices like the Jolla C.
The problem is that porting Android app support 8.1 to Xperia X would mean that we update the baseport to Android 8 on that device. We can't do this over the air, which means that we would have to create and maturize new HW adaptation for Xperia X and either stop supporting old adaptation or to support two adaptations for Xperia X. Supporting two different adaptions for same device would obviously be more work than just having one. If we'd only support new adaptation with SW updates would mean that old users would need to reflash their devices or they would stop getting updates.
We simply don't have the necessary resources to do it justice given the older hardware and several additional HW adaptation versions needed to support them now and in future.
This isn't a decision we've taken lightly. We are rightly well-known in the industry for the exceptional long-term support we provide for all of our devices and we will naturally be providing all the regular Sailfish OS software updates for the Xperia X, including Android 4.4 support, just as we do for many other older devices. The recent release of Sailfish OS 3.2.0 Torronsuo underlines our commitment to this.
We hope you'll enjoy Sailfish X on the new Xperia 10 and Xperia 10 Plus as much as we do and will take up our offer!
Keep on sailing,
Martin