I'm happy to share with you that we have today released the first Sailfish 3 software release, and made it available for all Sailfish users (Jolla devices and Sailfish X). 
Sailfish OS has matured to its third generation, Sailfish 3, which now fully packetizes the offering for multitude of corporate solutions. In line with the regional licensing strategy, Sailfish 3 has a deeper level of security making it a solid option for various corporate and organizational solutions, and other use cases. New enhanced features include e.g. Mobile Device Management (MDM), fully integrated VPN solutions, enterprise WiFi, data encryption, and better and faster performance. For daily users Sailfish 3 brings essentially better performance, deepened security, and smoother user experience. 
With Sailfish 3 we are also better equipped to offer full support for regional infrastructures including steady releases & OS upgrades, local hosting, training, and a flexible feature set to support specific customer needs.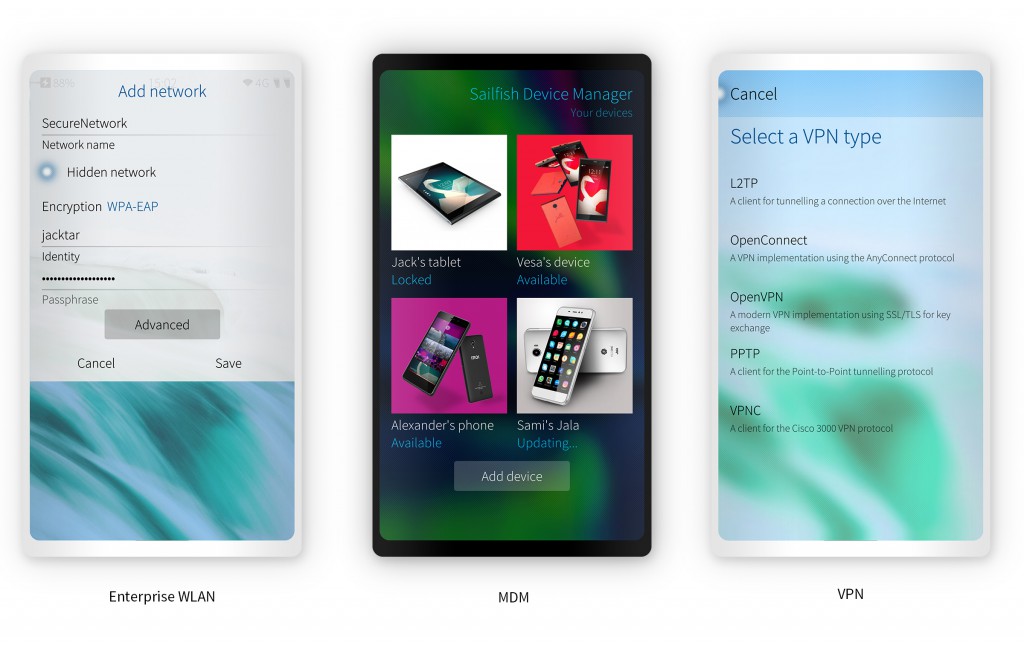 Sailfish 3.0.0 and next steps
As we have noted earlier Sailfish 3 will be rolled out in phases, and thus many features are deployed in several software releases. The first phase is Sailfish 3.0.0, which is available as an early access version starting today. Sailfish 3.0.0 is named after the legendary National Park Lemmenjoki in Northern Lapland. We've always aimed at respecting our Finnish roots in naming our software versions: previously we've covered lakes and rivers, and now we're set to explore our beautiful national parks. 
After the early access release today, we expect to roll out the 3.0.0 release for all the customers in a few weeks, and further the next release 3.0.1 in early December.
In addition to the security and corporate features mentioned above, here are some user experience highlights for Sailfish 3.0.0: 
New Top Menu: quick settings and shortcuts can now be accessed anywhere

Light ambiences: new fresh look for Sailfish OS

Data encryption: memory card encryption is now available. Device file system encryption is coming in next releases.

New Keyboard gestures: quickly change keyboard layouts with one swipe

USB On-The-Go storage: connect to different kinds of external storage devices

Camera improvements: new lock screen camera roll allows you to review the photos you just took without unlocking the device
Further we achieve much better UI performance in Sailfish 3 thanks to the rewritten way to launch apps and load views. You can start to enjoy the faster Sailfish already now with the 3.0.0 release and the upcoming major Qt upgrade will further improve the responsiveness & performance resulting to 50% better overall performance.

Sailfish X community program update
Next week, on November 8 we introduce Sailfish X support for various Sony Xperia XA2 models. Sony Xperia XA2 devices are great hardware additions to the Sailfish X program, and I'm happy to share that we'll start the support for all the product variants from the very beginning – including all single and dual SIM models. Below are all the variants you can choose from. See more product details on Sony's products page.

I trust you will enjoy Sailfish 3 and I hope to see many of you in our upcoming celebration events in Helsinki & Berlin! If you can't make it in person we will also have a live stream available from the event – we'll share the link in our social media channels.
Let's Sail On even further together!
Sami