It brings great pleasure to announce the release of Sailfish OS 4.4.0 Vanha Rauma for the Sony Xperia 10 III. The combination of Sailfish OS optimised for the Xperia 10 III offers amazing performance at an impressive price, giving the best Sailfish OS best experience yet. Sailfish OS on the Xperia 10 III also includes beta VoLTE support, disabled by default, but available for brave community members to try out for the first time. Not only is this the best way to experience Sailfish OS, but we also believe it's the best way to enjoy the Sony Xperia 10 III hardware.
We know that many of you have been eagerly awaiting the release since we previewed it at the Sailing for Ten Years party in Berlin. We've been working extremely hard to ensure it runs in the best possible way, and we're very happy with the result. You can try and buy Sailfish OS to flash directly to the Xperia 10 III from the Jolla Shop for 49,90€, the same price as all the other Sony devices in the Sailfish X program. For this, you'll get the Sailfish image to flash to your device of course. In addition, you get the paid extras of Android AppSupport for running Android apps directly within Sailfish OS, Exchange ActiveSync support for Office 365 syncing of emails, calendars and contacts, and predictive text support.
To give you an idea about what to expect from the Xperia 10 III, we thought we'd take a bit of a tour of the hardware. As this is a new device, there are also a few known issues that you should be aware of. We'll discuss those and the beta VoLTE support later
What you get from the Xperia 10 III
To look at, the Xperia 10 III is remarkably similar to the Xperia 10 II. There are some tell-tale differences: marginally thicker (8.3 mm vs 8.2mm) to accommodate a larger battery and with a slightly thinner screen bevel, especially at the top.
But it still has the same comfortably smooth glass casing, the same conveniently placed combined power button and fingerprint reader on the side, the same slightly raised three-lens camera bump on the back, the same uniquely-Sony 21:9 (1080 x 2520 pixel) screen aspect ratio, and the same sleek yet understated Sony design.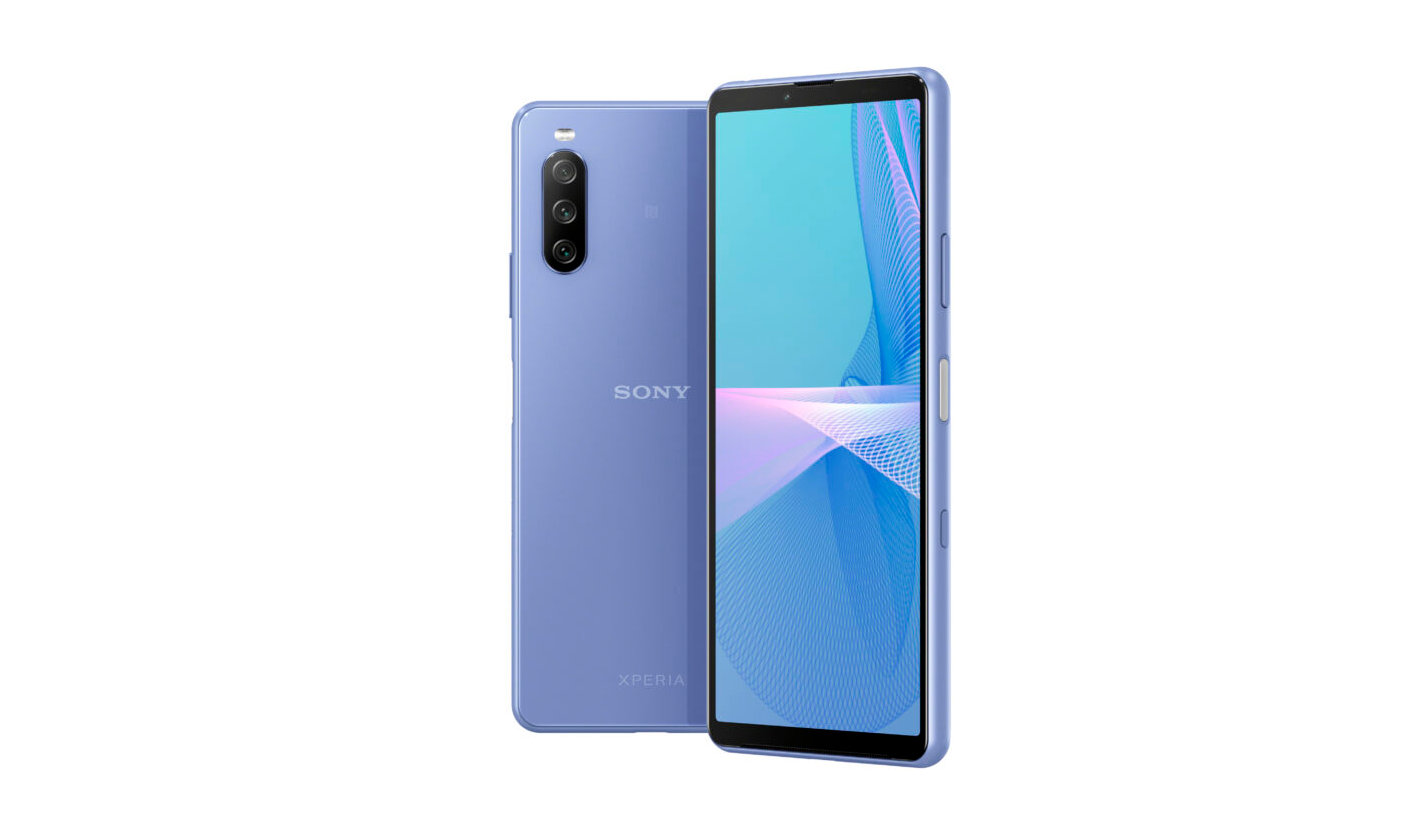 We've done our best to ensure Sailfish OS makes the most of all this hardware. And we see that in the performance results we get with the device. For example, on the browser, the Octane 2.0 benchmark jumps from 6696 on the Xperia 10 II to a whopping 15925 on the Xperia 10 III. Jetstream2 similarly leaps from 19.046 up to 36.622. If you're updating from an older device you can expect an even greater improvement.
And this isn't just demonstrated in the numbers, you can also really feel it when you use the device too.
Running this rather-beautiful jellyfish browser simulation with a hundred jellyfish, the Xperia 10 III consistently manages a silky-smooth 60 fps. In contrast the Xperia 10 II could only manage an average of 43. This level of performance difference is quite noticeable in practice.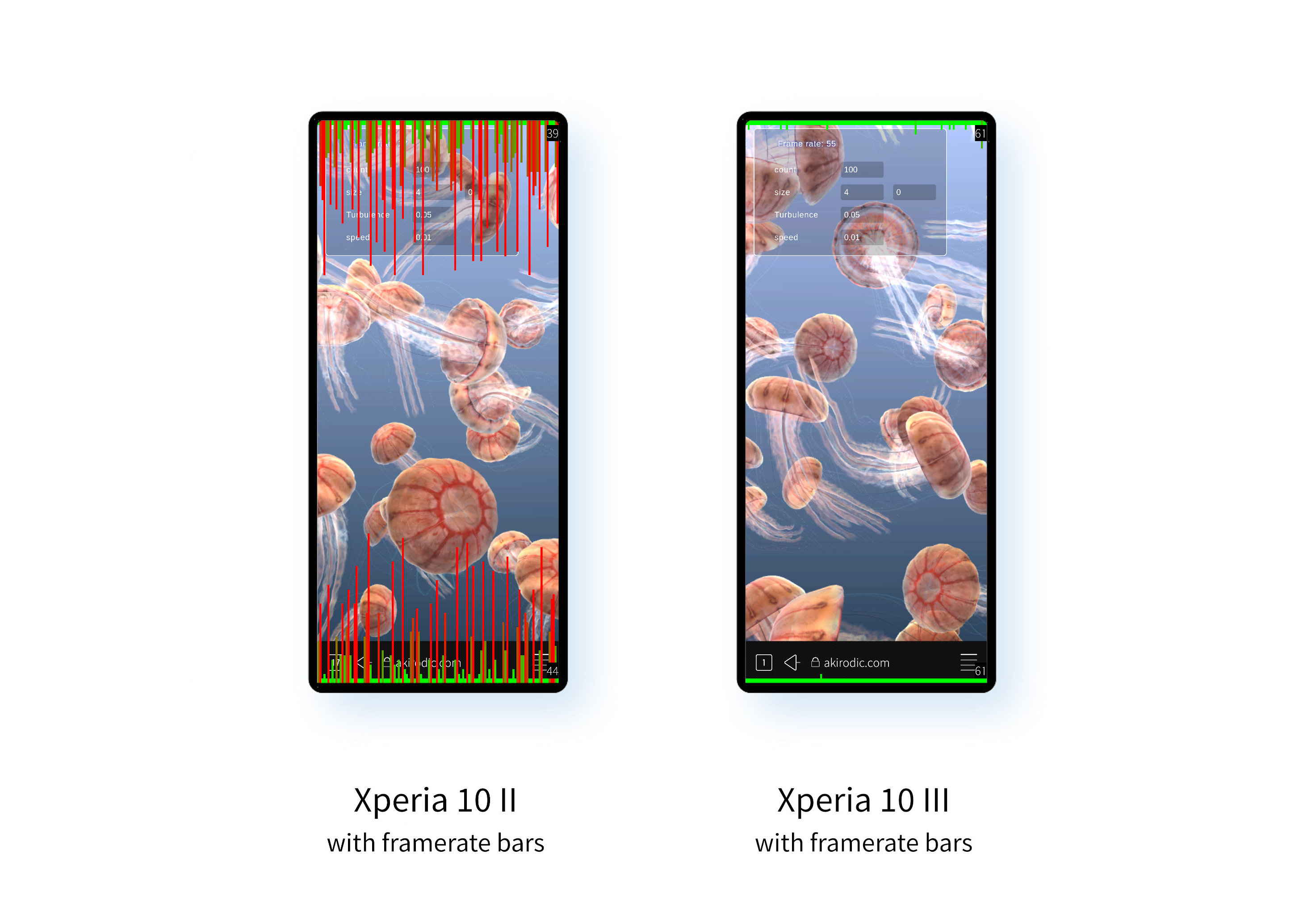 For graphical transitions or background processes there's a visibly noticeable improvement that makes Sailfish OS feel tangibly smoother and more responsive. We're talking buttery smooth. The great news is that these performance improvements don't come at the expense of battery life. The Xperia 10 III will run far faster and for far longer than the Xperia 10 II.
Rendering full-screen HD video with the screen set to eye-watering full-brightness on both devices running Sailfish OS, the Xperia 10 III kept going for 58% longer than the Xperia 10 II. That's a testament not just to the 25% larger battery (4500 mAh vs 3600 mAh) but also to the amazing effort Jolla's adaptation team has put into making the Xperia 10 III run as efficiently as possible (back in December an early Xperia 10 III adaptation was was losing charge 31% faster than the Xperia 10 II).
VoLTE beta
We are also happy to announce that brave community members are now able to try the beta version of VoLTE available for the Xperia 10 III. It is disabled by default, but you can enable it and join the testing by following the instructions on the forum.
A foundation for future development
While we're really incredibly happy with how Sailfish OS runs on the Xperia 10 III, there are a couple of important issues we're still working on which we didn't want to delay the release for. First, a glitch in the underlying firmware means echo cancellation for calls using the internal speaker works incorrectly. Second, only the standard back-facing camera (12 MP, f/1.8, 27mm, 1/2.8″, PDAF) and the front-facing selfie camera are available for use with Sailfish OS. In the latter case, we're hoping to work with our amazing community to develop a solution. For more details, please see our related forum post.
As with any new release there are also likely to be a few other bumps, and we're always keen to receive your feedback and to iron them out.
New features for all phones
As we roll out the changes needed for the Xperia 10 III, we're also taking the opportunity to provide an update for all our existing users too. This point-release update rolls out changes that aim to make an immediate improvement to the everyday Sailfish OS experience.
Apps with the Location permission will now be able to access the compass; the updated Mozilla Location Services databases will improve GPS lock speeds; browser improvements will ensure more websites work better on Sailfish OS. We've also added a Restart Fingerprint button to alleviate an intermittent issue with the fingerprint sensor some users have experienced.
These changes will bump up the Sailfish OS version from 4.4.0.58 to 4.4.0.64.
The best way to run Sailfish OS
Based on our experiences using the Xperia 10 III during development over recent months, we're convinced that it's not just a worthy addition to the Sailfish X line-up, but the best addition yet. We'd go so far as to say it gives the best Sailfish OS experience of any of our devices, by a wide margin. We hope you enjoy using it, and will join us on our journey to continue improving it further.