As we're getting closer to shipping the Jolla Tablets to all our dear Indiegogo contributors, we'd like to update you about what's coming your way soon.
Sales Box
It is our pleasure to introduce to you the Jolla Tablet sales box, the result of a long journey to create something special. It might sound like a simple task to design a box, but we have been working hard to provide you with something familiar and at the same time something new.
Design & Branding: The Jolla Tablet unboxing experience continues the Jolla design philosophy and theme from the Jolla smartphone, with the Jolla logo on the front and Sailfish OS code on the sales box sleeve. The main difference comes from the relaxed aloe colour which is used as a primary colour theme throughout the sales box.
Usability: You will find a smooth and secure sales box opening mechanism, similar to our first product, which brings out the inner box with a simple push on the Sailfish OS logo. The Jolla Tablet is packed in a protective sleeve with a tab for lifting the tablet effortlessly out of the box and into your hands. There is a Leaflet (unlike the standard ones 🙂 ) and a User Guide included to help you get started. A full User Guide will be made available in our Help Center once the devices start shipping.
Safety & Logistics: As the final step, the sales box has been put through rigorous drop and durability testing, ensuring that the tablet is well-protected during transportation and will arrive safely to your doorstep. In order to secure safe deliveries, all Jolla Tablets (and accessories) will be shipped to all our Indiegogo contributors in custom-made delivery packages.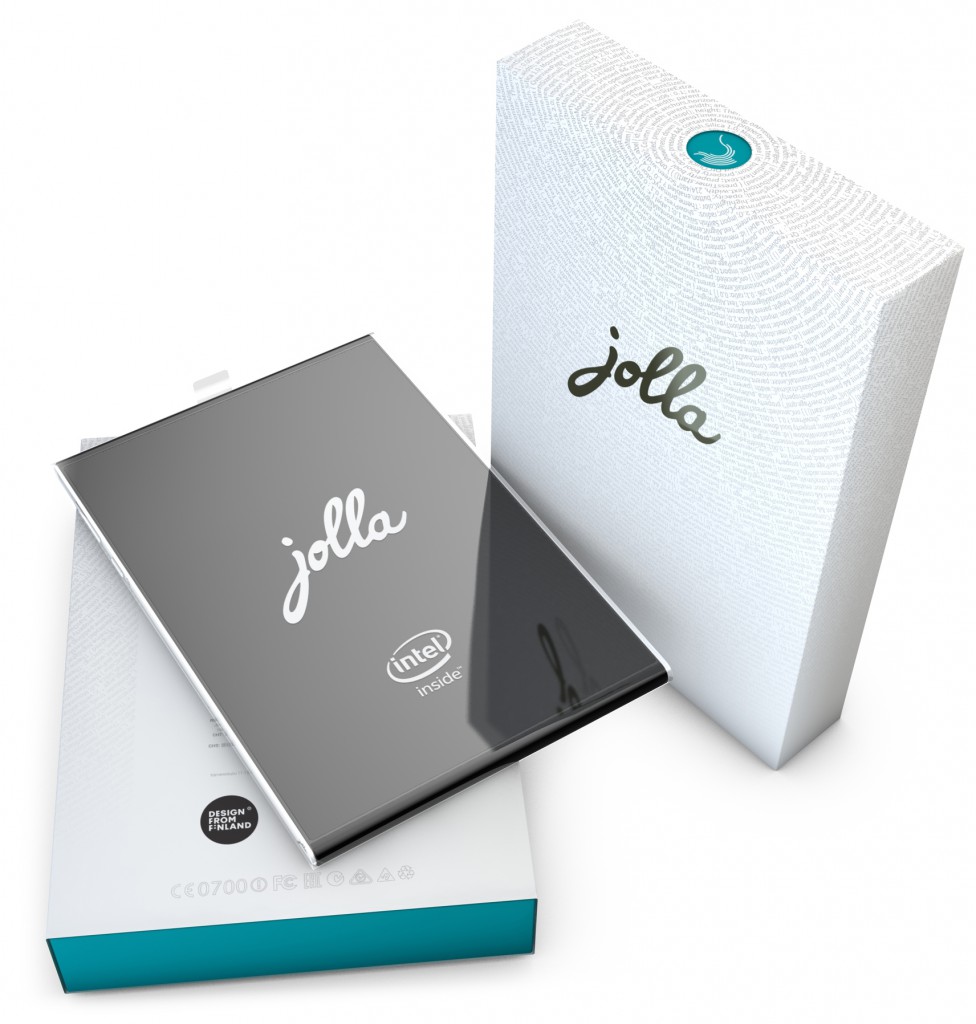 What's in your Jolla Tablet sales box:
Jolla Tablet in protective sleeve
Leaflet, User Guide, Warranty Leaflet
Two Jolla stickers in aloe and black
USB-cable
Accessories: protective cases
Together with a few world-class partners, we are excited to offer you custom-designed accessories for the Jolla Tablet. If you did not order your own Jolla Tablet case or cover during the Indiegogo campaign, you can still do so as you finalise your Jolla Tablet contribution and order (see details from the Jolla Tablet next steps FAQ).
A Finnish design match: Lastu and Jolla
mapbagrag®: with love from Austria
Additional Accessories
We are also happy to provide you with a selection of must-have Jolla Tablet accessories from our trusted partner Insmat:
Screen protector to protect the stunning display
Dual-USB 3.1 A travel charger with EU-plug
One of the world's smallest power bank with 9000 mAh capacity
Be sure to look for these accessories when finalising your Jolla Tablet contribution and order!
At Jolla we believe in choice, and reducing the unnecessary. You will find there is no charger in the sales box. We understand that many already have chargers at their home and it's just a little greener not to include another one. Leaving the charger out also helps keep the sales box dimensions as slim as possible.
We would like to hear your ideas and requests on potential accessories, so please leave a comment below.
Thank you & we wish you a Happy Unboxing Experience!
On behalf of the whole sales box & accessory team,
Sami